Jill Mills, USA – Strongwoman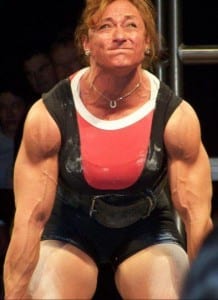 Jill Mills (born March 2, 1972) is an American world champion powerlifter and world champion strongwoman.
Bodybuilding/Powerlifting
Mills competed in bodybuilding from 1993 to 1995,[2] but turned to powerlifting in 1996. Mills is undefeated in powerlifting competition, has set numerous state and national records, and is a 2 time national champion. Jill also won the WPC World Powerlifting Championships in 2003.[3]
Strongwoman
Mills was also one of the first women to compete in strongwoman contests, starting in 1997. She was named the 1997 North American Strongman Society Woman Athlete of the Year. Her most notable accomplishment in strongwoman competition has been winning the World's Strongest Woman contests in 2001 and 2002, and finishing third in 2005.
She is married to Milo Mills, and has one daughter. Mills lives in Texas and is a registered massage therapist and personal trainer. She is also a licensed nurse but does not practice.
Powerlifting contest results
1995 USMC
1996 Alamo Classic, 165 lb. division – 1st
1997 USPF National Powerlifting Championship, Philadelphia, PA – 1st
1997 USPF Texas State Powerlifting Championship, Austin, Ft Hood, TX – 1st
1998 USPF Texas State Powerlifting Championship, Austin, Ft Hood, TX – 1st
1998 APF Raw State Championships, 181 lb. class – 1st
1998 Alamo Classic, 181 lb. class – 1st
1998 Metroplex Rep contest
1999 USPF Texas State Powerlifting Championship, Austin, Ft Hood, TX – 1st
1999 APF Raw State Powerlifting Championship, Dallas, TX (set 4 new state records) – 1st
1999 IPA Westside Invitational, Cleveland, OH, 181 lb. class – 1st
2001 USPF Texas State Powerlifting Championship, Austin, Ft Hood, TX – 1st
2001 USPF Texas Cup – guest lifter, 181 lb division (set 4 new state records and 1 new national record)
2003 APF Texas State Championship, Austin, TX – 165 lb class and overall best lifter, 4 new state records
2003 APF Nationals, Los Angeles, CA – 181 lb class champion
Strongwoman contest results
1997 Lonestar Strength Festival, Euless TX (injured)
1998 NASS Metroplex Champ, Dallas, TX
2000 York Barbell Champ, York, PA
2001 SW USA NASS Strongwoman Champ
2001 Callander Roundtable Champ (World's Strongest Woman qualifier)
2001 Killin Fair Champ
2001 IFSA World's Strongest Woman champion, Zambia, Africa
2002 Northeast Showdown Pro Strongwoman, Boston – won all events
2002 St. Louis Microbrew festival Pro Strongwoman – won all events
2002 Clash of the Titan, Aberdeen Scotland – 1st overall
2002 IFSA World's Strongest Woman champion, Kuala Lumpur, Malaysia
2004 Strongest Woman Alive champion, Riverside, CA